© 2004-2019 Church Planters to America
5 Buckley Lane Box 165
Almond, New York 14804
607-276-6072
From the Director
Tom Buckley
When I was saved as a young fellow, life was simple and anything beyond your hometown, family and school was hard to grasp.
Today, with all of the social media and electronics, everything comes right into our homes. And most of it is not very pretty or uplifting.
The purpose of C.P.A. is to spread the Gospel to those who live in our communities and the surrounding area. Carol and I know, from experience, that people will travel to a good church with a vibrant pastor who loves his people. That's what we do in C.P.A. It is through the preaching of God's Word, the fellowship of other believers and the challenge to reach out into the community. Many people have shared with me how they have been blessed because of the ministry of a C.P.A. Pastor.
To everyone who prays and/or gives to the support of the mission, we thank you. It says in I Corinthians 3:9, "For we are laborers together with God." Until the Lord comes or death takes us to heaven, we desire to be a bright light in the lost world. Pray for men to come along side of us to be missionary pastors.
God bless you and yours and may you have a blessed summer.
Missionary Family News
Please see the articles through out this Beacon on each of our missionaries and their ministries. Please keep each missionary family in prayer as they minister faithfully through Church Planters to America!
Bill & Winifred Chapman, Keep Busy!
As pastors and missionaries get older, people want to know what they will do in retirement. The answer from C.P.A. missionaries, "What I have been doing my whole life; serving God, preaching God's Word and serve in any opportunity God presents us with."
Bill and Winifred Chapman know that lifestyle. In recent years Bill and Winifred helped the Olcott Bible Church secure a pastor. They also spent time in Norwich, NY serving as interim pastor and helping them find their next pastor.
Now the Chapmans are back home in Norfolk, VA. Not to retire, but to get their bearing as to what is next. Bill is assisting Pastor Wade Smith at the Little Creek Baptist Church. He teaches a men's Sunday School class, preaches as needed and has helped start a men's breakfast. Winifred is available as opportunities arise. Pray for the Chapmans as they continue serving the Lord.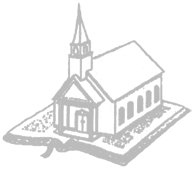 Little Creek Baptist Church
Men's Sunday School Class
Bethany Ruggerio to Graduate from High School
Bethany is the oldest daughter of Mark and Sue Ruggerio. She will be graduating from high school in June with honors. She will attend a, yet to be chosen, Christian college in the Fall. She works 18 hours at the local Goodwill store. Bethany plays both the piano and the trombone. During church services she runs the video projector. Since the seventh grade she has helped CEF with their club ministry and special events.
In recent years, Bethany has been involved with VBS. She has been involved with puppets for about 7 years. When able, Bethany helps distribute food at a local food pantry.
To Bethany we say, "Congratulations!" as you graduate from high school. May God Bless you in future years and endeavors.