© 2004-2019 Church Planters to America
5 Buckley Lane Box 165
Almond, New York 14804
607-276-6072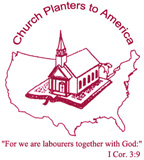 October 2019
Dear Friends,
Fall is here and all around us we see the effects of the changing season. Leaves are turning different colors and falling from the trees. Grass begins to slow in its growth and chilly air fills the days and nights. The changing of the seasons is much like life. Change can affect all of us. It can be refreshing and sometimes unwanted. Often life is beautiful and sometimes it can seem very dismal and disheartening. But when you have Jesus in your heart every season is filled with hope and anticipation. Thank God for His great salvation!
We thank you very much for supporting and praying for C.P.A. We need your partnership to continue to serve the Lord efficiently and effectively. You are valuable partners to us as we endeavor to bring glory to Cod.
Please pray often for one of our mission couple's, Bill and Winnie Chapman. Bill has several health problems and has spent much time in the hospital lately. They would appreciate the time you would spend praying on their behalf.
Please see our Prayer and Praise requests and remember to pray for each of our missionaries this month. The battle rages onward but with prayer and supplication with thanksgiving God can do great and mighty things!
If you are interested or know of someone who is interested in the mission please feel free to contact me on my cell phone at (315) 868-1294 or email me at cpamission12@gmail.com.
May the Lord continue to bless you!
Sincerely Yours,

Rev. Rob Andreas
Director/Missionary Pastor