© 2004-2019 Church Planters to America
5 Buckley Lane Box 165
Almond, New York 14804
607-276-6072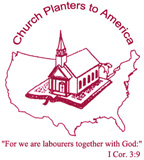 November 2019
Dear Friends,
When November comes around we are reminded of how blessed we are and how thankful we should be. God is always good to His creation and we should offer the sacrifice of thanksgiving to Him. We are also thankful for the bounty of harvest and how he meets our needs daily. What more could we ask for?
We are also blessed to have you as part of our team as you generously give to our missionaries and to the mission. Without you and your prayers we could not do what we do and we would not be able to share the Gospel in needy churches and communities.
As we gather with our families and celebrate Thanksgiving, we look to God who has done everything necessary for us to enjoy His great salvation. We trust you will enter into solemn thanksgiving for all that He has done for you.
Please continue to pray for Bill and Winnie Chapman. Bill is in rehabilitation recovering from a surgery and needs to regain his strength especially in his legs. Thank you.
May God richly bless you!
Sincerely Yours,

Rev. Rob Andreas
Director/Missionary Pastor