© 2004-2019 Church Planters to America
5 Buckley Lane Box 165
Almond, New York 14804
607-276-6072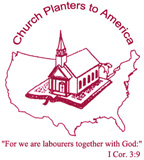 August, 2019
Dear Friends,
We had a great retreat at C.P.A. Headquarters the week of July 22-26. We started our retreat with a memorial service for Tom Buckley. This service was well attended and there were many testimonies of people who have been touched by his life. We appreciate each one who attended and for all the prayers for the memorial and our week of retreat. Please remember the Buckley family in your prayers. Also, read the recent prayer letter from Carol Buckley. If you would like to leave a message for Carol and the Buckley family, you can do so at Legacy.com.
We want to thank you for your support of C.P.A and are glad you have partnered with us to reach America with the Gospel. More than ever the need is apparent and we are grateful for all you do to make this possible.
At our retreat, we talked about the needs in America and the need to have strong, healthy churches preaching the Word of God without compromise. We have a need for men to come along side us and join our mission to help the local church. Pray for men and their families to join and become a missionary here in our needy land. This is one of our greatest needs today. We appreciate your prayers for this.
Without prayer and financial suppofters like you, our missionaries could not do what they do in serving the Lord. Many support individual missionaries and some support the mission in general. We love and appreciate each of you.
May God richly bless you!
Sincerely Yours,

Rev. Rob Andreas
Director/Missionary Pastor