© 2004-2023 Church Planters to America
P.O. Box 405
Portageville, New York 14536
(315) 868-1294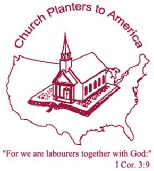 September 2023
Dear Friends,
Thank you so much for continually praying for the ministry of Church Planters to America. Without a team of people praying for us we would accomplish very little for the Lord. Prayer makes a difference. We remain steadfast and faithful to the call that God has placed upon our lives. Thanks to your prayers and support we fight the good fight for the Lord.
God is good to us. We know His provision is sure. He takes care of His own and will never disappoint us. We need to be totally dependent upon the Lord. Even the great apostle Paul asked for prayer that he could present the Word of God and that it would work effectively in the hearts of every believer.
Again, many thanks for all you do!
Ever In His Precious Love,

Rev. Rob Andreas, Director