© 2004-2019 Church Planters to America
5 Buckley Lane Box 165
Almond, New York 14804
607-276-6072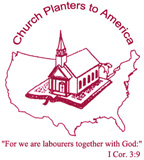 September 2019
Dear Friends,
It is really hard to think that summer is almost over. This has been a very busy summer for us at Church Planters to America. Many changes and adjustments have had to be implemented and we are learning how things operate on a monthly basis. We are grateful for Carol Buckley who continues to handle the mail and missionary support in the home office. She is very diligent and efficient in dealing with the everyday office matters. She is a blessing and is doing very well.
Each month we thank you for your important contribution to the ministry of C.P.A. Without a support base for each of our missionaries, the general fund and the prayers that are given on behalf of each one, we could not do what we do. We ask you to pray for all aspects of the mission. We need more missionaries to be able to help churches that need assistance.
We are truly grateful for your love and support. We need strong Bible preaching churches in America proclaiming the Gospel message. Your prayers and financial support help us to do this.
Remember to pray for each of our missionary requests this month.
May the Lord continue to bless you!
Sincerely Yours,

Rev. Rob Andreas
Director/Missionary Pastor