© 2004-2023 Church Planters to America
P.O. Box 405
Portageville, New York 14536
(315) 868-1294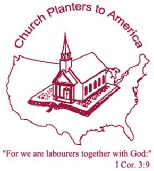 February 2023
Dear Friends,
As February is upon us, the world gets wrapped up on Valentine's Day. Love is in the air and many scurry about trying to find the right gift to give the one they love. This love does not compare to the love that we can have from God and towards God. His love is everlasting, and the hope of His love strengthens us every day. We should wake up on Valentine's Day and tell Jesus just how much we love Him.
Please pray that God will provide for all the needs of the ministry of Church Planters to America. We have a need to sell our headquarters building and nothing has transpired since placing it on the market. We need new missionaries to join in the work to help the struggling church and to plant new churches where they are needed. We know that God works through the prayers of His saints.
Please take a few moments to review our Prayer and Praise page and pray for our mission and missionaries.
Thank you for your continued love and support for Church Planters to America.
Because He Lives!

Rev. Rob Andreas, Director