© 2004-2020 Church Planters to America
5 Buckley Lane Box 165
Almond, New York 14804
607-276-6072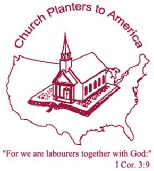 July 2020
Dear Friends,
The heat of Summer has come. Everything seems so dry as write this but we are grateful for the rainfall we have had to help revive the grass and flowers. Like this scenario, we have parched and dry times in our lives in which we need God to rain His life and joy down from above to refresh us and help to revive us again. In Psalms 85:6 the psalmist asks this question, "Wilt thou not revive us again: that thy people may rejoice in thee?" We know God desires to revive His children whenever the need is there. What we need in America and in the world is for God's people to have true, Holy Spirit revival.
Prayer changes things! We truly believe this and if America is going to recover from all the unrest and rioting it will be due to the prayers of the saints. The pandemic is still afflicting many and causing fear. Only as we seek God and ask Him to revive us will He then begin to turn the tide of our deprivation.
We beseech you to continue to pray for Church Planters to America. This month will be like no other month since we have existed as a mission. We will not gather for our Missionary Pastors' Retreat. Please pray that God will bless our mission and provide for all our needs so we can effectively minister the Gospel of Jesus Christ. Some of us are planning this month to gather at headquarters to work and tidy up the grounds. This will not be the same as a retreat but will give us many blessings as we serve together.
Thank you for your faithful support for the work of Church Planters to America. We do ask you to pray for more families that will come along with us to do what we do to help strengthen the local church.
May the grace of our Lord Jesus Christ be with you all!
Sincerely Yours,

Rev. Rob Andreas
Director/Missionary Pastor