© 2004-2020 Church Planters to America
5 Buckley Lane Box 165
Almond, New York 14804
607-276-6072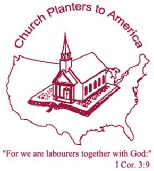 February 2020
Dear Friends,
The cold month of February is here. Valentine's Day will be celebrated by people and many stuffed animals and candy will be sold to prove one's love for another. True love is of God. As a matter fact, the Bible says, "God is love." (1 John 4:8) God showed His love to this world when He sent His only begotten Son to die for the sin of the entire world. That is extraordinary love. To think that God Himself, in the second Person of the Godhead, came to this earth and died for every person. That is marvelous love indeed. We, his children, understand His love and we benefit from it for all eternity. The Bible says, "Greater love hath no man than this, that a man lay down his life for his friends." (John 15:13)
As we consider the love of God we are so thankful that God has given us the opportunity to serve Him as church planters. Each missionary is dependent first on the love of God then on the love of those who support their ministry. As you saw the need to build and strengthen the local church, you committed yourself to support the work of Church Planters to America. We need your love and support in order to continue to serve the Lord in this type of ministry. As we see the world getting darker and colder we need the warmth and light of the Gospel to shine brightly in every community. You are helping that to happen.
On January 24, one of our missionaries, Bill Chapman, went home to be with the Lord. It is mentioned on the Prayer and Praises page of our web site to pray for his lovely wife Winnie. She needs much prayer through this loss and the comfort that only the Lord can grant.
We thank you for your gracious support financially and prayerfully for the work of the ministry. Whenever you send in a gift or offer up a prayer we are extremely blessed.
May God grant you many blessings and much grace.
Sincerely Yours,

Rev. Rob Andreas
Director/Missionary Pastor