© 2004-2020 Church Planters to America
5 Buckley Lane Box 165
Almond, New York 14804
607-276-6072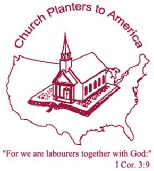 October 2020
Dear Friends,
Fall is officially here and with it comes fall activities. As we see the changes in seasons it reminds us of the fact that all of us change. Years pass and we find that life has flown by and here we are! It makes us glad that God never changes. He is the same yesterday, today and forever. We rely on this promise which allows us to be secure in all God says in His Word. We can know that God is faithful. He will see us through all the seasons of our lives.
Our C.P.A. churches are back ministering with in person services. We are thankful for the many blessings and the growth in God's people through these trying months. We have had health and much joy. Continually pray for Church Planters to America. We need the intercession for each day as we serve the Lord.
Our nation is in great turmoil in this election year. We need to pray for God to have mercy on this land and to send His glorious healing. As all the negativity in our nation persists, we know that the only cure is God and for Him to send true revival to our land. Every believer needs to stand in the gap and make up the hedge and persevere in prayer for God to do great and mighty things for our country.
Many blessing to each of you who receive this letter and take the time to read and pray for the requests in the Prayer and Praise section of our web site. We need all the prayer support we can get. Thank you for all you do with your love and support.
Sincerely Yours,

Rev. Rob Andreas
Director/Missionary Pastor