© 2004-2020 Church Planters to America
5 Buckley Lane Box 165
Almond, New York 14804
607-276-6072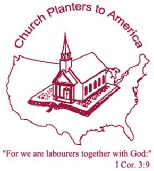 April 2020
Dear Friends,
They say, "April showers brings May flowers." As the flowers start to bloom and the fields begin to fill with color, we should wonder in awe of how great our God truly is. This month we celebrate the greatest event that ever happened on earth, the resurrection of Jesus Christ. With His resurrection comes hope for a bright eternal future for all who will believe. With the scare of the pandemic of Covid-19, the world should wonder about the frailty of life and the need to secure eternity. That is our purpose! To win as many as possible to Jesus before it's too late.
With the outbreak of the COVID-19 pandemic, our country and the world has abruptly changed. This challenge has affected everyone everywhere. We have had to do different things to adjust in our churches so we could continue to minister to our congregations. Hopefully God's people will continue to tithe to their local churches and will support those things that are important and needed such as Church Planters to America.
We need strong churches that preach the Gospel of Jesus Christ. To change fear to faith changes everything. You have your part in this as you pray for and support Church Planters to America. Without faithful people giving for the work of C.P.A., we could not do what we are doing. For this we are tremendously grateful.
As Spring commences, Summer will be here soon and that reminds us of our yearly Missionary Pastor's Retreat, July 20-24. Each year we ask for your special gift for this retreat. It brings our mission together for rest, refreshment and time together with one another and the Word of God. We appreciate the special offering you will give to help us provide every expense for those who attend. Next month I will be sending a special form that can be used help with our retreat.
May God richly bless you!
Sincerely Yours,

Rev. Rob Andreas
Director/Missionary Pastor