© 2004-2020 Church Planters to America
5 Buckley Lane Box 165
Almond, New York 14804
607-276-6072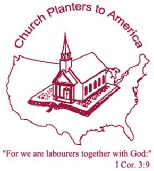 August 2020
Dear Friends,
We thank the Lord for each of you who love the Lord and the ministry of Church Planters to America. These are certainly trying days as we wonder how our nation can come together and put away division and strife. Only God can change a heart and that is what we need to see. God's people need to come together and pray earnestly for our nation and world.
The local church is vital in God's plan to rescue the world. If the local Bible believing church in town is weak, then the community will suffer. If the church is strong then many souls will be reached with the Gospel. This is the purpose of Church Planters to America. We want to strengthen the local church so our communities will be blessed.
Each month we send this letter to you, thanking you for supporting our missionaries and our mission. We do not take you for granted. We appreciate every act of kindness and each gift no matter the size. You are a blessing to each of us who serve as missionaries to America. Please read this month's Prayer and Praise requests and remember them in your prayers.
May our God bless you in many ways with spiritual blessing from His mighty hand.
Sincerely Yours,

Rev. Rob Andreas
Director/Missionary Pastor