© 2004-2020 Church Planters to America
5 Buckley Lane Box 165
Almond, New York 14804
607-276-6072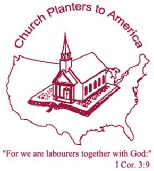 May 2020
Dear Friends,
May brings flowers, different birds and warmer weather that cheer and encourage us in many ways. These are refreshing symbols, especially this spring, as many of us are in a "sheltered in" situation. This pandemic has surely changed many things in our culture and society. For many, even Mother's Day is going to be affected by this virus.
In May, we honor our mothers that brought us into this world. For many of us our mothers were instrumental in praying for us that we would develop in our faith and become the individuals we are today. Some of our mothers have long entered into eternity but their influences are still evidenced in our beings. In 2 Timothy 1, Paul honors Timothy's mother and grandmother by recognizing what they did to encourage this young man from a boy. Take time and remember or honor your mother and the mother of your children.
We want to always thank the Lord for you and your faithful support for the work of Church Planters to America. Without your support for our missionaries and the general needs of the mission we could not reach out as much as we do. You are a blessing to us and we appreciate every cent you invest in the mission.
As summer approaches we look forward to our Annual Missionary Pastors' Retreat. This is a rejuvenating time for all involved and brings fellowship and encouragement that helps throughout the year. The retreat is scheduled for July 20-24. Please use this form if you choose to help us offset the expenses for our mission family. Your special gift will go toward supplying the needs of our retreat and will be a great blessing to each one.
God is always good and meets the need! We can always count on that!
God's blessings upon you.
Sincerely Yours,

Rev. Rob Andreas
Director/Missionary Pastor