© 2004-2019 Church Planters to America
5 Buckley Lane Box 165
Almond, New York 14804
607-276-6072
Tom Buckley: A Man with a Heart for America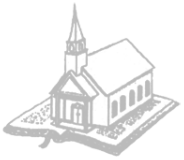 On June 14th, Tom Buckley, founder and president of Church Planters to America, went home to be with the Lord. Tom was called to church planting while studying in Bible College. In 1959, Tom married his college sweetheart, Carol, and they set out on a journey that would lead to 60 years of dedicated and devoted marriage and ministry.
Tom had a passion for the local church and began his ministry with the American Mission for Opening Churches. He was burdened to help communities where the church in town was closed. He and his wife Carol set off for their first church plant in central New York. They arrived at Dennison Corners and began to renovate the community church. Many were saved and the church became self-supporting. From there they moved to the state of Maine where they were instrumental in opening three more closed churches in Spruce Head, Hope, and Dyer Brook. Northern and Mid-Coast Maine now reaps the blessings of these two faithful servants.
Tom was then called to direct the American Mission for Opening Churches. While there the ministry grew and many opportunities opened. At one time over 40 church planting families ministered in local churches in America. As Tom looked at the local community he became burdened for Olcott where the mission headquarters was established. There was no Bible preaching church in town so in 1988 the Olcott Bible Church was established. That church remains in Olcott today as a testimony of Jesus Christ.
In 1998 there was a necessity to change ministries but the burden for church planting and America would be carried on. Church Planters to America was birthed and for over 20 years Tom and Carol would lead this mission into the 21st century. Strong leadership with great vision was the making for a solid mission. That vision continues today for the reaching of lost souls and building up of the local church.
Often you would hear Tom say we need more men to be church planters. This need is very much the same today. Church Planters to America will continue to help the local church to be a strong witness in the rural communities of America. Tom will be greatly missed but would want us to continue. Please continue to pray for Church Planters to America.
Rev. Thomas J. Buckley
Feb. 6, 1937-June 14, 2019